Evaluating Board Performance
Evaluating Board Performance
With an increasing level of scrutinization of Boards, evaluating the performance of a Board and its composition is central to good corporate governance. Through our extensive research into Boards, we have developed a powerful tool that can either be used to complement a formal external evaluation process, or can be used internally as a tool to measure and identify areas for Board improvement.
The tool comprises of five key themes that have been identified as having a significant impact on Board performance, namely:
Composition – having the right balance/mix of people are on the Board
Contribution – of each member and the Board as a whole
Visioning – to describe the mind-set of Board members and how they think overall
Dialogue – relating to quality of debate in moving the organization forward
Effectiveness – focusing on processes, competencies and behaviours.
In analysing and evaluating the performance of the Board and its members these themes are analysed both in isolation to identify any potential weaknesses, and as a whole to ascertain the inter-relationships that make a successful Board.
Composition
The composition of the Board can also have a significant impact on Board performance. The tool has a number of measures, including the extent to which the Board has:
A diverse/inclusive mix of members with the ability to think differently
Members who have experience in other businesses and different business cycles
Members who have a clear understanding of the dynamics of the industry
Members who are sensitive to the needs of the organization.
Contribution
The participation and contribution of Board members is a key component to likely performance, and we measure this through members':
Shared views and understanding
Ability to review and assess progress/performance
Contribution to the strategic debate
Value that they deliver.
Visioning
The way a Board thinks, how each member interprets events and processes, can influence the way a Board works in practice. The visioning map captures how individuals, together with their colleagues, envisage a future and subsequently take action. The map has four dimensions:
Centredness - refers to how a person leads their daily life; ranging from those who do not need continuous interaction, living in their own inner world (introverted) to those who are more outgoing and needing to interact with a large number of people (extroverted).
Behaviour orientation – refers to how individuals behave and whether their way of acting varies by circumstance or is consistent irrespective of the situation. Certain individuals can adopt a more directive approach, controlling others' actions and ways of thinking, whilst others are more consultative, inviting participation and comment.
Interfacing – examines how individuals relate, interact and cooperate across organizational and status boundaries. Certain people are more rational in their approach, paying attention to detail and focusing on getting the job done with minimal concern for how others feel, whilst others are more sensitivity oriented and are conscious others' concerns and moods, focusing more on building relationships.
Cognition – refers to ways of knowing, forms of knowledge, or ways of instinctively seeing the surrounding world. Certain individuals are intuitive, grasp the bigger picture and use their creative imagination and insight when facing new and interesting challenges. On the other hand, the pragmatic individual thrives on detail, relying on experience and tangible information.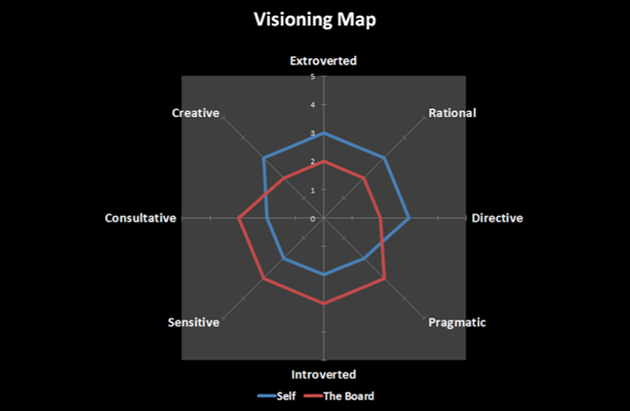 The example Visioning Map shows that the Board member's self-scores reflect that they are more Consultative, Sensitive, Pragmatic and Introverted compared to the Board as a whole. Whilst this is not problematic, the individual has to respect the way things are done generally and work with others in sharing the vision for the future.
Dialogue
Through our research into Boards and Top Teams, dialogue is an important aspect to ensure that the quality of discussion that takes place has a positive impact on organizational performance, for example does the Board have members who:
Actively participate in discussions
Are open and constructive
Are able to handle sensitive/awkward issues
Promote effective debate based on experiences/background.
Effectiveness
The final part of the evaluation tool measures the effectiveness of the Board. There are three dimensions with a total of eleven sub-items, identified as key measures through our research with what makes and effective global board, namely:
Processes and structures – reviewing top talent performance and engaging in succession planning; the empowered support of Board committees; regular Board evaluations; frequency of Board meetings; and clear criteria for Board member replacement.
Profiles and competencies – the right balance of skills, knowledge and experience; clarity of vision/strategy which is both shared and understood; and regularly reinvigorating Board membership to incorporate new ideas/talent.
Culture and behaviours – capacity to adapt to risk and innovation; Board team dynamics; and identifying Board improvement opportunities.
Board members are asked to rate how each measure is important to Board effectiveness in general and the degree of satisfaction with the performance of their own Board in practice.
The example below shows how different members rate the Board's capacity to innovate and adapt. Whilst the Board recognizes its importance the figure shows that each role rates the Board as under-performing, more so for the CEO/MD, where the gap between the Importance and Performance scores is highest.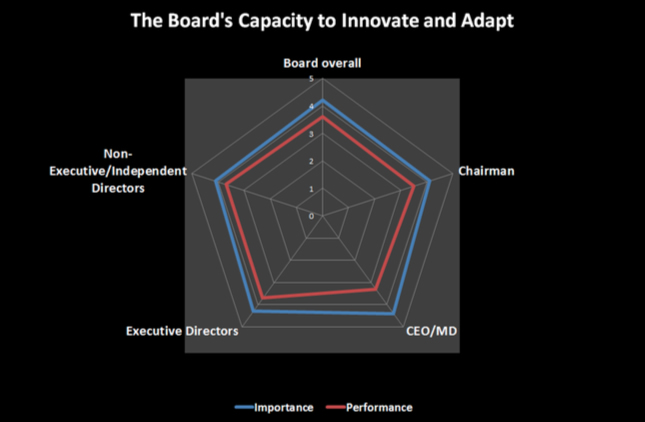 If you would like to find out more about how this tool can be used to help your organisation, please contact us.
Latest Video
Civil service relations with ministers
Watch video
Latest from Twitter
Tweets by Kakabadse
@kakabadse
Clients we work with