Top Team Preparedness
Challenges of Leadership, Strategy and Performance
The Top Team has an important role to play in strategy formulation and organizational performance. How effective is your Top Management Team? How well prepared is it to deal with challenges of leadership, strategy development and organisational performance?
The tool comprises of six key themes that have been identified as having a significant impact on the performance of the Top Team and its ability to deal with the challenges it faces, namely:
Composition – having the right balance/mix of people are on the Team
Visioning – to describe the mind-set of the Team and how it thinks
Cohesiveness – of each member and the Board as a whole
Dialogue – relating to quality of debate in moving the organization forward
Strategic awareness – level of understanding of strategy and its implementation
Relationships – focusing on relationships with others in the organization.
In analysing and evaluating the performance of the Team and its members these themes are analysed both in isolation to identify any potential weaknesses, and as a whole to ascertain the inter-relationships that make a successful Team. If it is not strong on each of these themes then its ability to identify and address challenges will be significantly diminished, to the detriment of the business.
Composition
The composition of the Top Team can also have a significant impact on team performance. The tool has a number of measures, including the extent to which the team has:
A diverse/inclusive mix of members with the ability to think differently
Members who have experience in other businesses and different business cycles
Members who have a clear understanding of the dynamics of the industry
Members who are creative/forward looking
Members who are sensitive to the needs of the organization.
Visioning
The way a team thinks, how each member interprets events and processes, can influence the way a team works in practice. The visioning map captures how individuals together with their colleagues envisage a future and subsequently take action. The map has four dimensions:
Centredness - refers to how a person leads their daily life; ranging from those who do not need continuous interaction, living in their own inner world (introverted) to those who are more outgoing and needing to interact with a large number of people (extroverted).
Behaviour orientation – refers to how individuals behave and whether their way of acting varies by circumstance or is consistent irrespective of the situation. Certain individuals can adopt a more directive approach, controlling others' actions and ways of thinking, whilst others are more consultative, inviting participation and comment.
Interfacing – examines how individuals relate, interact, cooperate across organizational and status boundaries. Certain people are more rational in their approach, paying attention to detail and focusing on getting the job done with minimal concern for how others feel, whilst others are more sensitivity oriented and are conscious others' concerns and moods and focus more on building relationships.
Cognition – refers to ways of knowing, forms of knowledge, or ways of instinctively seeing the surrounding world. Certain individuals are intuitive, grasp the bigger picture and use their creative imagination and insight when facing new and interesting challenges. On the other hand, the pragmatic individual thrives on detail, relying on experience and tangible information.
The example below shows that the Top Team member's self-scores reflect that they have a similar profile to the Top Team as a whole, but tend to be more Introverted than Extroverted, indicating a desire for less interaction compared to the team as a whole.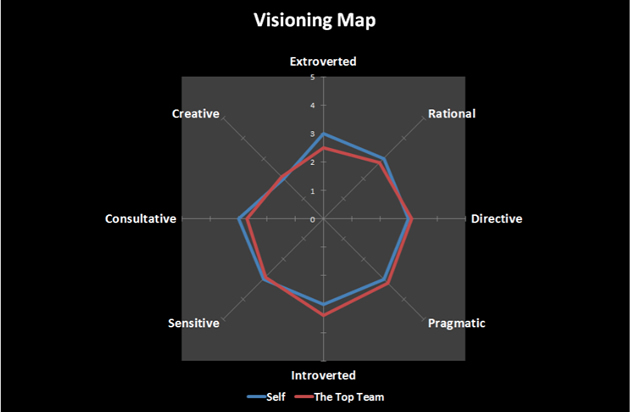 Cohesiveness
A cohesive Top Team is a healthy Top Team. Cohesiveness exists where members display the following characteristics:
They are easy to talk to
They have a good understanding of each other
They trust each other
They address both the long and short-term issues
They pull in the same direction.
Dialogue
Through our research into Boards and Top Teams, dialogue is an important aspect to ensure that the quality of discussion that takes place has a positive impact on organizational performance, for example does the Top Team have members who:
Actively participate in discussions
Are open and constructive
Are able to handle sensitive/awkward issues
Promote effective debate based on experiences/background.
Strategic Awareness
The degree of strategic awareness is an important characteristic important for all members of the Top Team to possess. Such awareness relates to:
Understanding implications of implementing the wrong strategy
Allocating enough time to understand and discuss the strategy
Working towards being aligned with others.
Relationships
As well as displaying positive relationships within the Top Team itself, the team's pivotal role also means that its relationship with other parts of the organization play an important part in effectively driving through and implementing strategy. Such relationships include:
Top Team and General Managers
CEO/MD and the Chairman
Top Team and the Board.
Challenges
Top Teams face many challenges; some examples include issues relating to:
Performance of members
Long-term future of the organization
Sustaining competitive advantage
Relationships and opinions
Structure and re-organization.
The tool gauges the issues that are of current concern to the Top Team and how effective it is at addressing such issues. If the team displays an inability to address such issues then it faces a series of potential opportunity costs for not addressing those issues, which will be to the detriment of the business.
The example output below shows that the Top Team is well prepared with respect to its Composition, Dialogue and Relationships but would need to improve its ability with respect to Strategic Awareness, as well as addressing issues relating to leadership strategy and performance.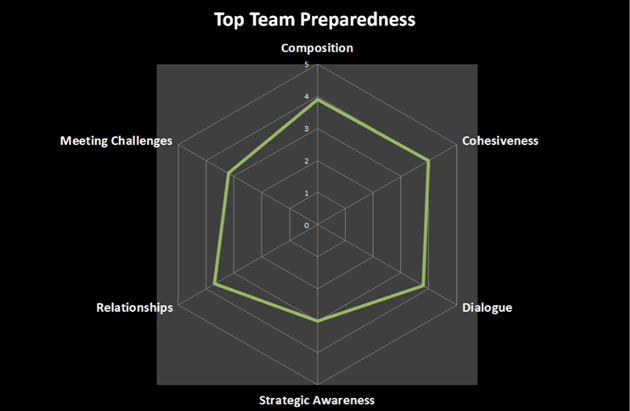 If you would like to find out more about how this tool can be used to help your organisation, please contact us.
Latest Video
Civil service relations with ministers
Watch video
Latest from Twitter
Tweets by Kakabadse
@kakabadse
Clients we work with